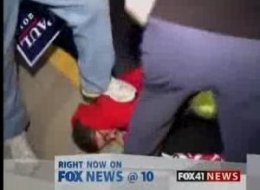 When a Rand Paul supporter stomped on the head and shoulders of a MoveOn.org protester at a campaign stop in Kentucky, the ugly incident provided an instant and crystalline snapshot into the growing culture of violence that is seething in the darker precincts of the American right-wing.
Yet the act of violence itself - the young woman suffered a concussion and local police are properly preparing felony chargest against the Tea Party thug responsible - seems like a lowercase footnote to the circus of politics in comparison to the wider reaction of conservatives. 'I say she got what she was asking for' said a commenter on Jim Hoft's radical and frequently reactionary Gateway Pundit blog. And that voice was not the exception. It's too easy to cherry-pick insanity from comments sections, but when you can use a squeegee to sop 'em up, well son, that's what we call "a pattern." To wit:
We fight back , I know your not used to it bit get used to it. There are a new breed of conservatives. We have stones. Powder is dry.
These maggots get what they deserve.
To all you pansies who are whining about the foot to the back put yourself in that position. The guy didn't stomp on her head; he pushed her down flat on the ground. No one knew what she was up to and took measures to neutralize her. If you have ever been handled by the police you will realize these same techniques are used against a perp. Please grow some balls and understand that these situations call for these measures. If she had a gun you would be crying that enough wasn't done.
So that makes it okay to shove her to the ground and step on her head? Yeah, it does. You wanna play tough, you better get tough. Whiners.
Screw the narrative, make liberals afraid of confronting the right. This is why athiests and secularists cower and surrender to Muslims but feel free to whip up on and attack (literally and legally) Christians.
You want to mess with us? Get ready for an ass whoopin.
My hat's off to all who acted with charm and grace. And why I never go where cockcroaches dwell. I know MY limits. But stand in my way … on the way to the voting booth this upcoming Tuesday? Then G*d help you.
Too bad nobody had a taser.
She's lucky she didn't get her fuxing head blown off. Robert Kennedy and George Wallace weren't so fortunate.
Catch that last one? That's what in the air these days, the whiff of violence and anarchy from the hard right, from the reactionaries who have taken over the Republican Party. This is the anger stoked by the Palins and the Pauls. Yet the so-called mainstream conservatives, with very few exceptions, consort like pigs in the slop with those who rely violent, anti-American know-nothing for their scraps of power.
Perhaps the hatred on Hoft's sickening blog - where a policy that allows comments like these clearly approves of them as well - isn't so far from what we consider the mainstream? After all, the Gateway Pundit is published by The Institute on Religion and Public Life, which describes itself as "an interreligious, nonpartisan research and education institute whose purpose is to advance a religiously informed public philosophy for the ordering of society." The Institute was founded bythe late Richard John Neuhaus, a Catholic priest and former Lutheran clergyman who advised former President Bush and teamed with  Watergate figure Charles Colson to edit Evangelicals and Catholics Together: Toward a Common Mission. Socially conservative? Yes. A hate-mongering radical espousing violence? No. Yet Fr. Neuhaus's website is now filled with hatred, only a year after his death. 
A week from today, the mid-term elections unfold across the land. The Tea Party wing of the GOP will claim victory in its push of the Republican Party to the far frontiers of the American right. Their visceral - and in some case, race-based - hatred of President Obama masks a wider dislike for true liberalism, the open society we've crafted in centuries of blood, sweat and toil.
So here's what I say: vote against 'em.
UPDATE: Essential Melissa McEwen - "This is the inevitable result of a political movement that constantly engages in violent rhetoric (and there are a lot more links where those came from), whose elected officials feel comfortable speaking casually about the violent overthrow of the government. This shit doesn't happen in a void."