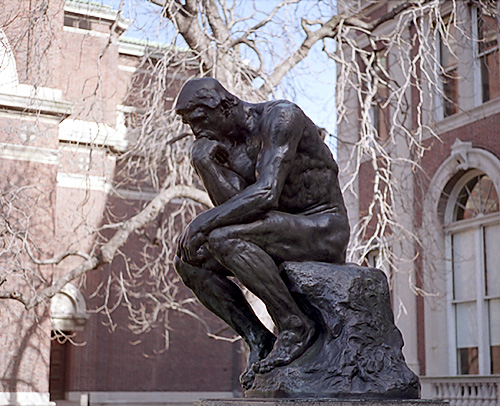 Twenty-five years after a baccalaureate address by Isaac Asimov and commencement in a sea of blue gowns on a cold day of drizzle, a small contingent of Columbia College's class of 1984 made it back to Morningside Heights for an evening of wine sampling, fundraising appeals, lectures and peering at name badges with that "you look familiar" gaze.
I'm not big on reunions, but I'm glad I went. My friend Ben Rosner, an '84 classmate who I didn't know back then (we met through our kids) talked me into it, and we reminisced about taking Professor Eugene Galanter's behavioral psych class and marveled at the new student center that replaced the old Ferris Booth Hall, where David Johansen debuted his Buster Poindexter persona early in the Reagan era.
A recurring theme in the polite conversations in the reception tent by the steps above College Walk and just below Alma Mater: an appreciation for the unchanging campus (except for that student center) - the walkways just the same, the hedges in the same places, the trees more mature but still in the same lines from Broadway to Amsterdam. An appreciation of classicism is not exactly in vogue in this era of change, but there at a center of academic liberalism,  the murmur of assent for formal architecture and unchanging core curricula rose above the discussions of careers and children and jokes about hairlines.
As if to punctuate that ceaseless (and welcome) connection to the past, there was Professor Karl Ludwig Selig holding court in the garden of Casa Italiana, his voice still redolent and full of character into his tenth decade of inquiry. A parade of lit majors renewed their acquaintance, and talked (in necessarily bold voices) about his famous classes on Don Quixote and the Spanish picaresque novels.
Then Professor Eric Foner tackled the subject of college's most distinguished living current alumnus, a certain skinny transfer student from Hawaii who graduated a year before our class, and tied the election of Barack Obama to the unfinished business of American Reconstruction (on which the history prof is a leading academic expert). Asked about the President's choice of Judge Sotomayer, Professor Foner launched into a passionate discourse on the societal value of good public housing; not the dead-end streets and towers we've settled for since the 70s, but the kind of decent, publicly-supported apartments that nurtured our next Supreme Court Justice and produced a social return on investment that would knock the feathers out of any economist's spreadsheet.
Talk flowed toward lighter subjects: Mama Joy's, the old West End, the Mill luncheonette, Tom's Restaurant, the Marlin, La Bella China, V&T's, the Cosmopolitan and its cheap breakfast specials. The old neighborhood, changed in almost direct proportion to the staid, preserved lines of Columbia's campus. Yeah man, those were the days. We were now the paunchy, balding old dudes in suits our younger selves would have not-so-gently mocked on the way across campus. And pretty much digging the role.
Recommended reading: How a young blogger saw us.