[Cross-posted over at newcritics] The sitcom has never really received its full cultural credit. For every chapter in American social change chronicled by M*A*S*H or All in the Family, the contribution of the form itself gets lost. Since the early radio shows, Americans have learned to speak in quips, in quick exchanges, to a virtual laugh track or studio audience.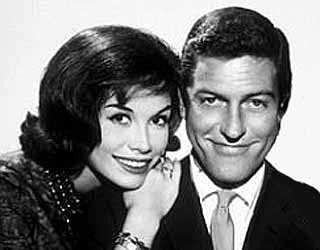 The family unit as a central theme of comedy accelerated with the first television domestic sitcoms, as household tension became a basis for escape and comedy, rather than a bleak personal landscape. In the sitcom world, we're all funny - the very mundane quality of daily life is worthy of portrayal. Our own hypocrisy, our middle class status symbols, our struggles - all played for yucks in Homer Simpson's world.
Then too, there's always the duck out of water to laugh at - the oddballs we all know. Kramer. Norton. Gilligan. Barney Fife. Danny Partridge. And so on. That crazy so-and-so, lookit what he's gone and done!
I'm starting a little list-gathering that I'm going to try and pull together over at newcritics, our new group blog - the idea for this particular list is Jason's, and he's got his own Top 10 choice for domestic sitcoms. Here's mine - a mixture of best and personal favorites (workplace comedies like M*A*S*H and Taxi are excluded - may for another time):
1. The Honeymooners. There's no arguing with this one, it's the model for scenes of uproar and domestic disharmony entertaining millions. How sweet it was.
2. The Simpsons. Longest running sitcom of all time, it continues to amaze with its rich characters and unending parody of local life.
3. I Love Lucy. Urban domestic life, the faux New York created to effortlessly in the Desilu studio, the innovative camera work, Desi Arnaz's immense talent used so subtly as straight man and Cuban sidekick, the familiar sets, the Murtzes, and the wild, wacky, wonderful Lucy.
4. All in the Family. Forget the social commentary and ground-breaking political statements. Forget its timeframe in a time of protest and upheaval. Just watch this killer cast, the original foursome. And laugh out loud. As comedy, All in the Family holds up and Carroll O'Connor rides the role of a lifetime with perfect pitch.
5. Seinfeld. It's genius, Jerry, genius! So many of the lines in Seinfeld have entered daily parlance, so many of Larry David's wacky situations have become part of our consciousness - the Seinfeld moment - that this series may actually be underrated. Notice too that all the top five adhere to the same "rule of four" of the basis domestic unit; in Seinfeld, it's not a marriage, but clearly a family situation.
6. The Dick Van Dyke Show. Quick, hum the opening theme. A hybrid really, because it's almost a workplace comedy (again, another list) it tips toward domestic classic by one star's presence - Mary Tyler Moore's wonderful Laura Petrie. Ah, life in New Rochelle!
7. The Bob Newhart Show. Sexy, urbane, it seemed so adult when I was a kid. A swinging childless couple - clearly by choice - living the high life in Chicago with a bunch of wacky friends. All in brilliant Newhart deadpan.
8. The Flintstones. OK, it's a cartoon Honeymooners rip-off, not really a classic, not particularly well-written, not all that funny. But the Flintstones had two great things - a wacky premise brilliantly executed, and a sympathetic, consistent style that stays with us 40 years on. And without Fred, there's no Homer.
9. Bewitched. The sitcom, suburban version of Bell, Book, and Candle, this baby revved in 60s color along with Elizabeth Montgomery's sultry, twitching nose and two - dig 'em - two different husbands.
10. Curb Your Enthusiasm. Pure mayhem; no one gets comfortable around Larry David. The situations are literally painful to watch. And the house changes every season. The one current sitcom on the list, and the only new show I simply will not miss.
I've left off so many - the other magic-monster 60s classics (Munsters, Addams Family, I Dream of Jeannie), the softball suburbans (Dobie Gillis, Leave it to Beaver, The Brady Bunch), the 70s icons that really don't hold up (Happy Days, Three's Company), and some personal faves (Sanford & Son, My Three Sons, The Jeffersons). Love to hear yours.